The Skull Rock is a desert island[1] with skull format[2] (when viewed from above) and squid[3] (when viewed from the side), located at the north of Bravo Beach[4].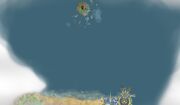 The target to the island can be made by swimming or by Woosh[5]. However, it is confirmed that a sea monster (not confirmed which) may attack you while swimming.
There was never a physical Skull Rock in the original game; it's only presence was on the map, and was likely there for aesthetic reasons.
Pics of the Day
Edit
References
Edit

Note: Subject to change as information about the game is revealed.
Ad blocker interference detected!
Wikia is a free-to-use site that makes money from advertising. We have a modified experience for viewers using ad blockers

Wikia is not accessible if you've made further modifications. Remove the custom ad blocker rule(s) and the page will load as expected.